News & Events
Keeping All the Pieces
2/01/18 (Thu)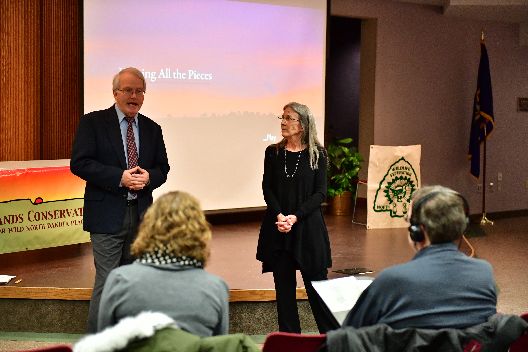 Mike McEnroe (Wildlife Federation) and Jan Swenson (BCA) present the film & answer questions from the media at the Bismarck Veteran's Public Library on Thursday, February 1st. Photo courtesy of Mike LaLonde Photos.
Badlands Conservation Alliance webpage (directed to the Keeping All the Pieces film)...
This 15-minute film has been hosted at 27 gatherings (involving over 1000 people) throughout North Dakota, along with discussions to further the dialogue about what's happening in our state. As Jan mentions, the threat is real. If this development is going to last 5 generations, we need to be informed, actively participate in and be thoughtful about the implementation and the resulting legacy, not accepting what someone else chooses to "give" us as stakeholders, landowners, and citizens.